Luxury Villas for Rent in Phuket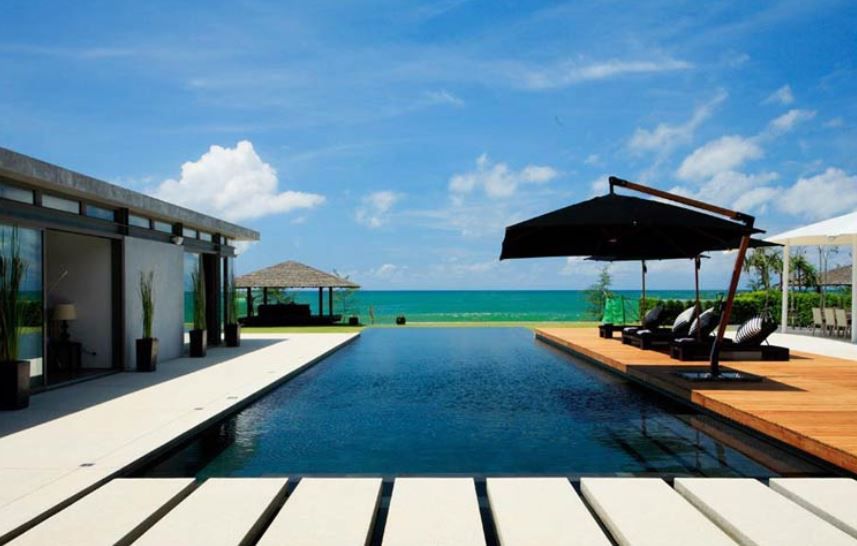 There are a great number of impressive Phuket villas available if you are looking for a place to stay on the island. Sava Villa 4 is among the most luxurious villas in Phuket and is perfect for 12 people. Situated in Natai Phang-Nga, this is a blissful modern haven that will make any holiday even more special. With 6 stylish bathrooms and 7 baths, this is spacious and boasts modern amenities. From the property, one can enjoy beautiful water views and the most amazing ocean breeze. The tranquil turquoise colored water is bordered by a stretch of the finest white sand. Sava Villa 4 is the perfect venue for a grand family holiday, intimate island wedding, or a weeklong getaway with friends. Located 20 minutes away from the airport, it is accessible yet secluded.
Sava Villa 4 oozes with casual luxury and this can be observed from its well manicured landscapes to its effortlessly stylish interiors. The large swimming pool is designed for all day swimming. The views from here are so amazing. Guests will surely enjoy them. There is a roomy sundeck with lounge chairs where one can get a tan or simply enjoy the scenery. Sava Villa 4 has a shaded yet open grill area where guests can roast steak and grill their favorite sea foods.
The modern art deco living room is definitely inviting and is among the best rooms in the house. Stuffed couches where guests can sit take most of the space, while native décor are used to add a nice homey touch. The ceiling is high and boasts intricate wood work to provide a charming island feel to the place. This room looks out at the pool and is a good place to catch up with other guests. Because of its classy interiors, Sava Villa 4 is among the most raved about vacation rentals. Sava Villa 4 also features an activity/TV area with lazy cots where guests can simply indulge and rest for a while. Dining area have enough seats for all the guests.
When it comes to private accommodation, Sava Villa certainly knows how to impress. The private spaces are big and are done stylishly. Plenty of natural light is able to get inside the rooms, making them appear brighter and bigger. Light colors act as backdrop while sharp prints make interesting accents. The bedrooms feature a nice spacious balcony where guests can admire the breathtaking scenery. The bathrooms boast modern fixtures so bath time is hassle free.
Sava Villa 4 makes a nice focal point to any Phuket holiday. This is a one of a kind villa that will make any holiday more comfortable. This is ideal for the whole family and is something that can also be shared among friends. Here, guests can spend as much time at the beach, luxuriate in the romantic ambience, and get a good dose of fresh air. The weather is very sunny so your stay will be as tropical as can be. Sava Villa 4 is among the for a Thailand vacation.
To be informed of the latest articles, subscribe: